Have you taken the leap into the land of self-employment?
Perhaps you've recently left a long-held job in order to strike out on your own as a professional consultant.
Or maybe you have always dreamed of owning your own small business or restaurant.
After going it alone for a while, you may have realized that while you love your work, you're missing one crucial tool from your previous nine-to-five life:
Structure.
If you worked in an office, you likely had more external deadlines, due dates, and meetings you couldn't reschedule than you do now.
You may find yourself wondering how to realign your schedule to reach your productivity goals.
Here are seven productivity apps that can help you on your journey to organized, self-employed bliss.
1. Todoist: Your To-Do List App
Whether you are a student, a young professional, or a seasoned business person — or anyone at all, for that matter — keeping a to-do list is one of the best ways to manage your time and organize your day.
Todoist is a simple, streamlined app that keeps your to-do lists separated and sorted in terms of priority and due date. Because this app is frequently updated, you can expect regular improvements such as having the ability to collate your items into a bullet-point format instead of simply as a digital checklist.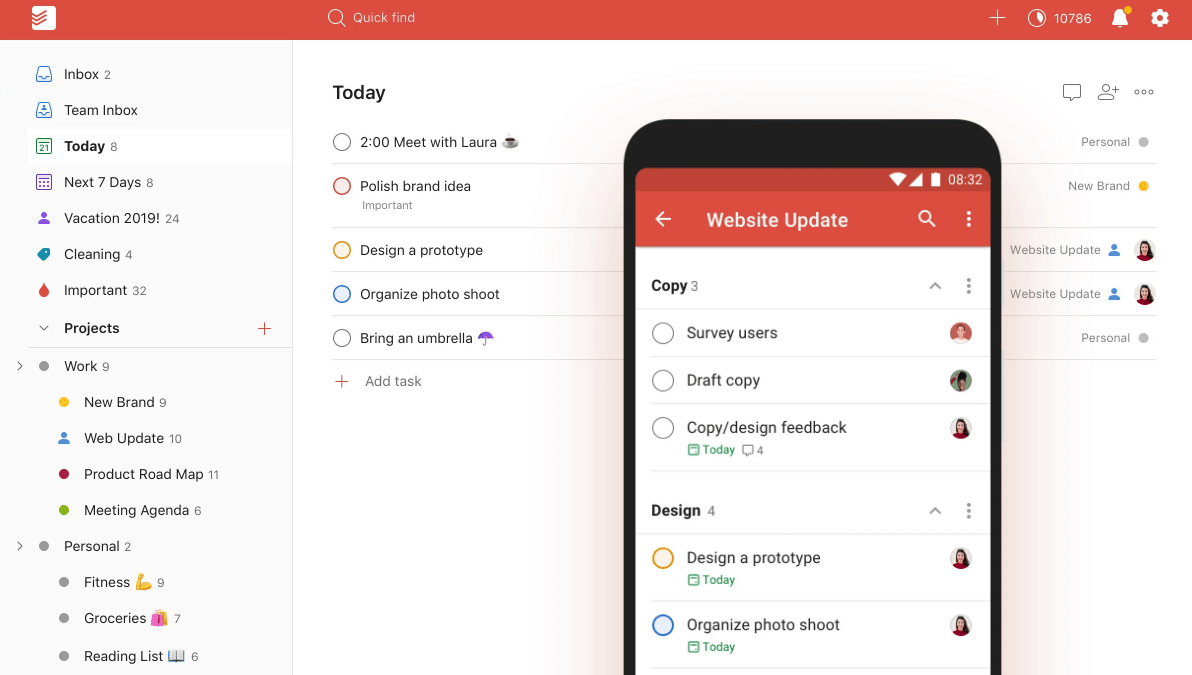 Todoist will help you free up mental space for more important tasks, organize your daily life, and create separate lists for separate projects. If you want to keep a personal to-do list as well as a work to-do list, this is completely possible with Todoist.
This practice will go miles to helping you separate your work life from your home life, which can blend together quite easily if you are self-employed and also work from home. Todoist will additionally keep you accountable if you do not complete a task on its designated day by shifting incomplete tasks to the "overdue" folder.
2. Productive: Your Habit-Building App
If you want to become more productive but you aren't sure where to start, take a good look at your habits. If you aren't sure what your habits are, have Productive analyze them for you.
You can set small goals, like drinking a glass of water every day, or schedule larger endeavors, such as making time for weight training every Monday, Wednesday, and Friday. Additionally, you can use this app to directly increase your productivity for work.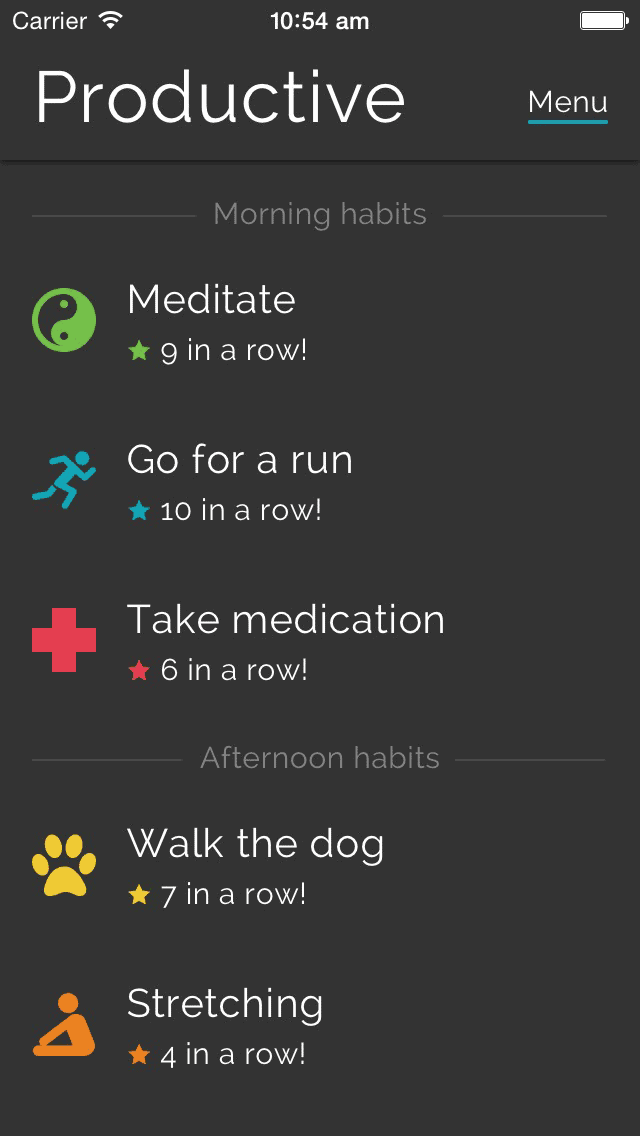 Try scheduling a time to answer emails in the morning, or you could virtually keep yourself accountable by only taking a twenty-minute break for lunch instead of an hour-long siesta.
Keep yourself on track, make sure you're following your own rules, and analyze your daily habits to figure out where you need to make changes. This practice will be great for both your productivity as a self-employed individual and your growth as a person.
3. Forest: Your Focus App
This fun app is sure to quickly become one of your favorites due to its simplicity and adorable design. Forest is designed to help you focus, but it's also a game. When you want to start focusing on a task, you plant a virtual tree. If you can remain focused for the duration of the task, your tree will grow. If you repeat this process enough times, you can grow your very own virtual forest; however, if you get distracted and exit the app too soon, your virtual tree will die and you will have to start over the next time you enter the app!
The goal of this app is to keep you in the present moment, and if you do get sidetracked halfway through your work, you can remember that you are in the process of growing a virtual tree. The gamelike aspect of this productivity app will do wonders in keeping you focused as it gives you a goal to focus on when your mind wanders from your work.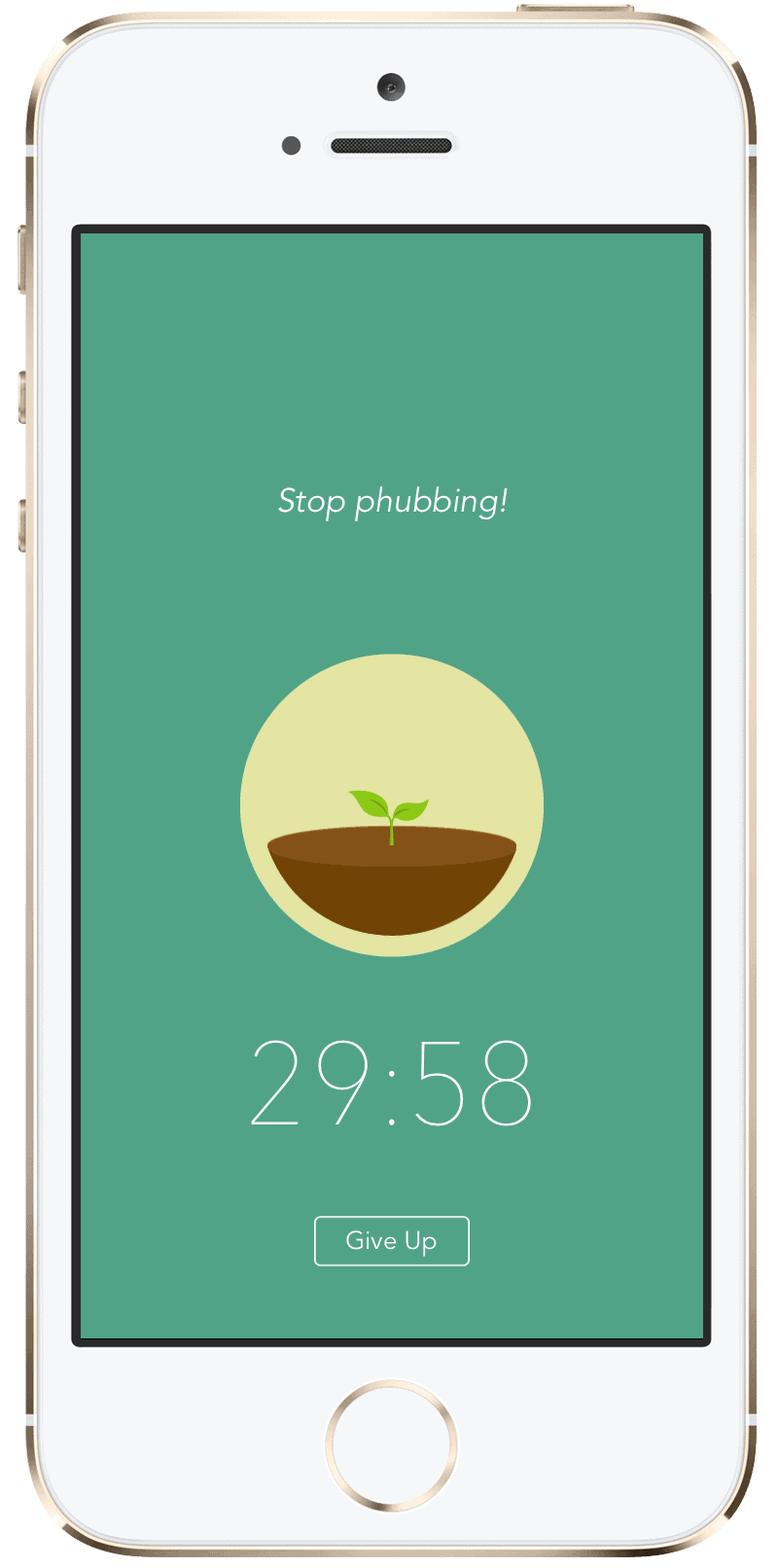 If you are still unconvinced that growing a virtual tree will help you work smarter, know that your virtual work can translate into a real benefit for the planet as well: Forest partners with a real-life tree-planting organization that has a goal of increasing the number of real trees planted each year. Whenever you spend virtual coins inside the Forest app, Forest will donate to this organization.
4. Trello: Your Project Management App
Social media apps are great tools for staying in touch with people, but you may want to additionally consider investing in a collaboration tool that will help you and your team manage various projects. Trello is a project management app that can assist multiple people in getting on — and staying on — the same page as they navigate the waters of a shared project.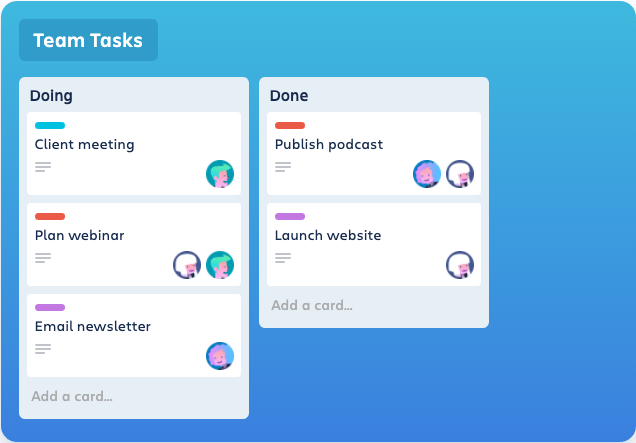 With its movable cards, boards, and lists, you and your team can color-code to your hearts' content as you organize your workflow. This app is especially important for productivity if you have a large team of employees working under you, your team is working remotely, or you have an expansive project to tackle and you (and your employees) do not want to waste valuable time with constant "check-in" meetings. If you'd like to take some micromanagement off your plate while increasing your productivity, Trello may be your best bet for getting things done.
5. Google Calendar: Your Scheduling App
The benefit of working in an office is that you have the external structure of a nine-to-five job as well as your coworkers and bosses who constantly remind each other of the communal work calendar.
Though you left your daily grind for a reason, when working for yourself, this structure is one of the things you may miss as it forced you to be accountable to someone other than yourself. So, as a newly self-employed person, should you use a planner to create this daily structure? A giant wall calendar? Or should you go entirely digital?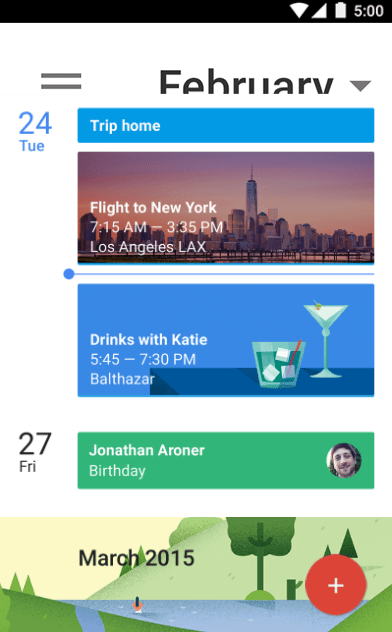 Enter Google Calendar. This one may seem a bit obvious to include on a productivity list, but if you work for yourself, you will need a way to organize your days, weeks, months, and possible your fiscal quarters as well!
Paper-and-pen planners are great if you want to go old-school, but digital calendars provide numerous benefits over physical calendars, especially when you will likely be working with others who are not in the same office (or home office) space as you. Keep track of important dates, color-code different calendars, and invite others to meetings and pre-scheduled appointments.
6. Calm: Your Meditation App
If you raise an eyebrow at the idea of closing your eyes and doing nothing increasing your productivity, you might be interested to know that meditation offers numerous benefits including a better mood and increased focus.
What could be better for productivity? Take twenty minutes, or even five, every day to simply clear your head and get ready for the day.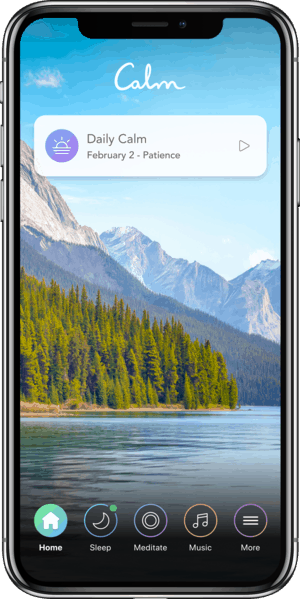 Calm is an award-winning app that helps you find your inner tranquility with a lineup of breathing routines, meditation, and calming exercises. As a fun bonus, it also features celebrity voice talent like Matthew McConaughey! Use these exercises and strategies to ready your mind before a big day of productivity as well as calming down to help yourself focus before important meetings.
7. Due: Your Due Date Reminder App
Do you wake up in the middle of the night in a panic because you forgot an early morning due date? Do you struggle to remember what parts of your important projects are due, and when?
Look no further than Due: the app that sends constant reminders so that you will never forget another due date or an important deadline. For self-employed people, this may be one of the most important apps you purchase this year.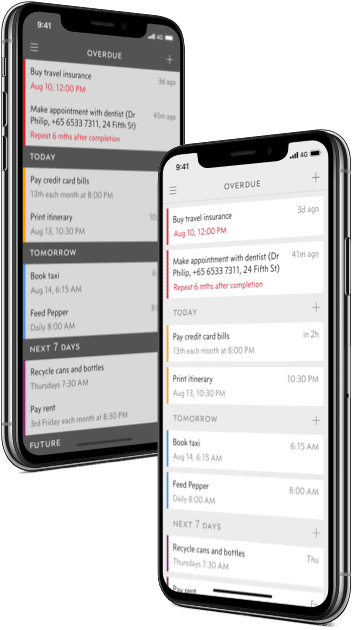 If you do not work with many other people, if you are a freelance writer or developer, or if you are the type of person who leaves your keys in the fridge on a regular basis, this app may be a perfect fit for your creative, hectic, and now extremely productive life.
When you create a task, you will set a reminder for when it is due. Due will then remind you, at predetermined intervals, to complete that project, send that email, or finish the task on which you are working. It's great for productivity because it's the equivalent of having a personal assistant reminding you every five minutes (or every minute, if you wish!) that you have something due.
Final Thoughts
Newly self-employed individuals need to possess talent, drive, and passion in order to realize their dreams, and ultimately, to make money.
You've surely got all of the above if you have struck out on your own to start working for yourself.
Take your skillset to the next level by investing in a few affordable apps that can help you concentrate, prioritize your tasks, and communicate with the outside world.
Even though you're working for yourself, you're not alone: Reach out to us for more tips and advice for working remotely, being self-employed, and growing your small business today.